Melanie Milletics is in Success From Home Magazine's September 2011 Issue as a Top Ambassador for Her Top Production in Promoting the Body By Vi Challenge from ViSalus Sciences.
The September 2011 issue of Success From Home Magazine spotlights ViSalus Sciences and the Body by Vi 90 Day Challenge ~ the fastest growing health challenge in the USA and Canada and the #1 Home Based Business in North America.  It exposes readers to its rich history, exciting future and those responsible for its success.
Melanie Milletics can be found on page 53 of the September issue of Success From Home Magazine, as a Top Ambassador with ViSalus Sciences.
Melanie helped launch the Body By Vi Challenge in 2009, and founded the ViSalus Dream Team. The Dream Team has had 2 rounds of Body By Challenge winners, and 3 runners up!
"Our ViSalus Dream Team is all over the new magazine!"
With the new $10 Million Dollar Challenge and all the ways to win, Melanie is excited for the future of the ViSalus Dream Team!
"I have learned that my own expectations of what the Dream Team will accomplish are blown away month after month! Its a proven business model that is ready to be implemented in marketplaces across North America, and ultimately the world!"
The Body By Vi Challenge from ViSalus is the fastest growing health challenge in North America, with ViSalus official Canadian Launch happening in September 2011.  A major reason for its success is because it is shared using the Network Marketing model ~ a health challenge that is spread from one person experiencing a health Transformation, to another who needs to make a change to improve their health.
The Body By Vi 90 Day Challenge is growing by more than 1200 new Challengers per day and has created a solid and growing community of people both online and offline who are committed to living fully vital lives.  Whether its losing weight, gaining muscle, or getting the best in human nutrition so the body can heal itself of disease – the Body By Vi Challenge is for anyBODY and everyBody!
The list of celebrities that have aligned themselves with ViSalus is growing, not the least of which is Hulk Hogan who has his own story in the magazine.
This is not the first time that Melanie Milletics was featured as a Top ViSalus Producer in Success from Home Magazine.
In September 2010 Melanie was featured in the Magazine as a top Regional Director.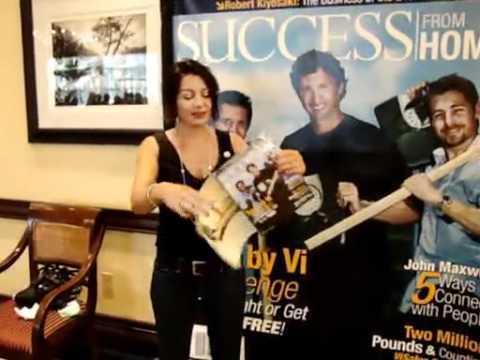 One year later, Melanie is a 1 Star Ambassador, having helped Body By Vi Champion Skip Taylor get to Ambassador  and earn his $25,000 bonus check as well!
"My goal is to help HUNDREDS of people earn those $25,000 bonus checks for their families! This is the most amazing opportunity I have been given: to share the gift of Life, Health, and Prosperity with the world!" ~ Melanie Milletics
Tags: 90 day challenge, body by vi, success from home magazine, visalus top producer, what is visalus